What's New?
April 17, 2015
Roy Bickel, Pioneer of Rigging
Stage Directions has published an article about our friend Roy Bickel, that we wish to share with you. All of us have learned something from you, Thank you!
March 31, 2015
VER PERFORMS TEST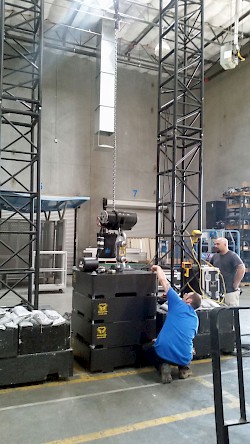 VER choose to test, Columbus McKinnon's new 2 Ton Single Reeve Chain Hoist, here at In-House Production, to take advantage of the flexibility with our Steel Enclosed Concrete Filled Base Plate Weights that can be bolted together in 1,250 pound increments.
OUTDOOR SPEAKER TOWER
This Installation of Line Array Speakers is using our Sky Hook Adjustable Head Block, 20.5" x 20.5" Tower Truss, Two (2) Concrete Filled Base Plate Weights, one at the base of the Tower and the other for the Lifting Chain Hoist.
Call our Imagineers for your Staging Needs. We have your solutions!
Supporting
Entertainment
Special Events
Industrial and Corporate Trade Shows
Conventions
Theme Parties
Concerts
Theater
Broadway Shows
Films and Movies
Providing
Equipment
Labor, Skilled and Certified
Payroll and Payrolling
Production Services
Rigging Gear
Stagehand Staffing, Short and Long Term
Stage Crew
Stage Rigging Services
Truss and Motors
Areas We Have Served
Nevada - Las Vegas, Laughlin, Henderson, Primm, Parump
California - Los Angeles, Anaheim, Palm Springs, Coachella Valley, Fresno, San Francisco
Utah - Salt Lake City
Texas - Corpus Christi, Dallas
Hawaii - Honolulu, Kona
Affiliations
In-House Production is Licensed and Bonded.
Employer Identification Number (EIN)# 88-048446
Clark County Business Licenses: 2000091.341 / 2000127-557 / 2000628-543 / 2002632.43
City of Las Vegas Business License's: C19-00275-D-109754 / B26-00585-D-109754
City of Henderson Business License: 131X-Contractor/1002055695
Event Promoter Business License: M18-02596-D-10954
Nevada State Business License No: NV20011209075
State of Nevada State Contractors Board License: #0055618 Bond $ 250,000.00; #0066764 Bond $ 900,000.00
Las Vegas Convention and Visitors Authority Permit License: 312
Dun & Bradstreet (D&B) D-U-N-S Number is: 068036917
Agura Caliente Gaming Licence Number 7450