What's New?
January 27, 2015
How much Base Weight Do you need?
1,250 Pounds?
2,500 Pounds?
3,700 Pounds?          More?
Bolt together as many as you need for your project.
Special Pricing
Steel Enclosed,
Concrete Filled,
Truss Base Plate Weight
The Truss Base Plate Weight, and the Tie Down Base weights in at 1,250 Pounds.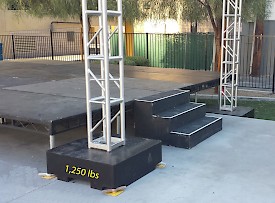 This Base Plate Weight can be used on both Hard and soft Ground. Notice the Base Plate Weight on the right side is on Grass and is 12 inches lower than the Base Plate Weight on the left.
(To see a larger version of the picture, click on the Image)
Supporting
Entertainment
Special Events
Industrial and Corporate Trade Shows
Conventions
Theme Parties
Concerts
Theater
Broadway Shows
Films and Movies
Providing
Equipment
Labor, Skilled and Certified
Payroll and Payrolling
Production Services
Rigging Gear
Stagehand Staffing, Short and Long Term
Stage Crew
Stage Rigging Services
Truss
Areas We Have Served
Nevada - Las Vegas, Laughlin, Henderson, Primm, Parump
California - Los Angeles, Anaheim, Palm Springs, Coachella Valley, Fresno, San Francisco
Utah - Salt Lake City
Texas - Corpus Christi, Dallas
Hawaii - Honolulu, Kona
Affiliations
In-House Production is Licensed and Bonded.
Employer Identification Number (EIN)# 88-048446
Clark County Business Licenses: 2000091.341 / 2000127-557 / 2000628-543 / 2002632.43
City of Las Vegas Business License's: C19-00275-D-109754 / B26-00585-D-109754
City of Henderson Business License: 131X-Contractor/1002055695
Event Promoter Business License: M18-02596-D-10954
Nevada State Business License No: NV20011209075
State of Nevada State Contractors Board License: #0055618 Bond $ 250,000.00; #0066764 Bond $ 900,000.00
Las Vegas Convention and Visitors Authority Permit License: 312
Dun & Bradstreet (D&B) D-U-N-S Number is: 068036917
Agura Caliente Gaming Licence Number 7450